Wooden Thread Winders
Our slim wooden winders are constructed in such a way that they do not split along grain lines, as is a common occurrence with some, when worked with strong hands. They are small enough to fit into a housewife or trekking kit, yet can hold quite a lot of thread.
THREAD WINDER STYLES: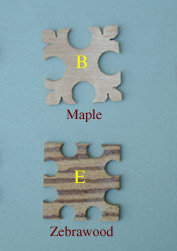 THREAD WINDER WOODS:
Maple
Walnut

Color and figure may differ slightly from woods shown.

#180-W, approx. 1 1/8" square, 3.00 each
*** When ordering please state style and wood desired ***
Also check out our Square Mother-of-Pearl Thread Winders and Hand-Crafted Mother-of-Pearl Thread Winders