Civil War & War of 1812
Wool Blankets
Our reproduction standard military issue wool blankets will keep you warm on those cold campaign nights under the stars, and during the winter months at home. Made in the USA in the same Woolrich Mill in Pennsylvania where the original blankets were manufactured, they feature the same design of the blankets that were issued to Civil War troops from 1861 to 1865, as well as those sold at trading posts in Hudson Bay territory in the 1800s. During the Civil War, Woolrich supplied troops on both sides with wool blankets to stave off the biting and bitter winter cold of the battlefield. Legend has it that the company made blankets for Union troops by day, and for the Confederate army by night. Available in three styles, ours were made in the same woolen mill as their predecessor, and are attractive enough to be used as bedspreads yet durable enough to endure reenactments, picnics or camping trips.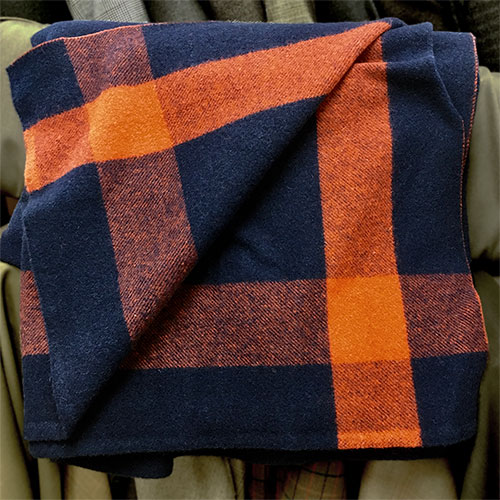 Civil War Calvary Wool Blanket
This is a handsome blanket with four intersecting brick red stripes woven into a solid dark blue background just inside each edge. It is a recreation of Civil War Calvary issue. 85% wool and 15% nylon fiber content; Approximately 66x80" in size.
Calvary Wool Blanket, Navy/Brick $99.00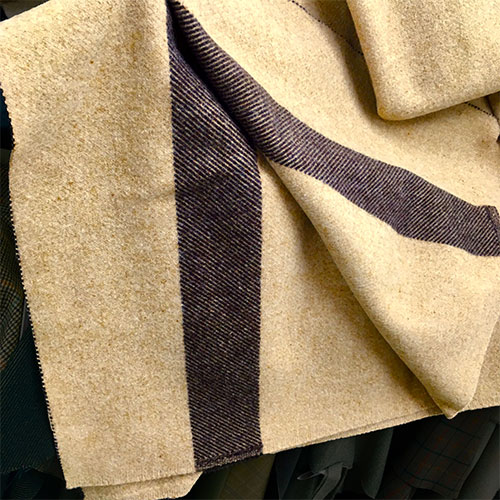 Fort Sumter Wool Blanket
Our Fort Sumter blanket features two wide contrasting chocolate-brown border stripes, one at either end, on a wheat colored background. 85% wool and 15% nylon fiber content; Approximately 60x72" in size.
Fort Sumter Wool Blanket, Tan/Brown $99.00
War of 1812 Wool Trade Blanket
Our distinctive natural white trade blanket with border stripes of indigo blue was a style commonly used by Native American and French-Canadian trappers and traders in the northern U.S. in the 1800s. During the capture of Mackinac Island, Michigan in the War of 1812, British Captain Charles Roberts was unable to obtain greatcoats from the British Army for his troops. To provide his soldiers with some protection against the harsh winter in the Great Lakes, Roberts improvised blanket coats from the numerous wool blankets already on hand in the trading posts, like this one. 85% wool and 15% nylon fiber content; Approximately 60x72" in size.
1812 Wool Blanket, Natural/Blue $75.00

Painting of an Indian Woman, by Anna Maria Von Phul, 1818
Missouri History Museum