O-Rings
Bone and Horn Rings
These simple circles have a million applications. One fellow we know holds his silk neckerchief together with one of our bone rings. Another customer uses the different colored horn rings to mark her knitting.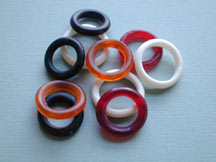 #125-20, 20mm (approx. 3/4") diameter x 4mm thick,
Bone, Black Horn, Amber Horn or Red Horn
$.35each or three for $1.00



Brass Rings

#127-150 can hook a tent rope to a stake and act as a mediator between hard iron and softer rope, to keep it from fraying.

#127-150, 1 1/2" diameter x 1/4" thick, Solid Brass $1.50 each
#127-1 & #127-75 are commonly used for bridles but may also hold elegant draw draperies.

#127-1, 1" diameter x 1/8" thick, Solid Brass $1.20 each
#127-75, 3/4" diameter x 1/8" thick, Solid Brass $.1.00 each
#127-50, 1/2" diameter x 1/8" thick, Solid Brass .80 each

Our #126 hollow brass rings are a perfect base for Dorset thread buttons, and at the same time are excellent for hanging gorgets. Use them to draw up your petticoat as well as your draperies. They are very functional for stringing Roman or balloon shades because they do not rust and do not break easily like plastic.

#126-5, 1/2" diameter, Hollow Brass $.20 each
#126-375, 3/8" diameter, Hollow Brass $.15 each