Solid Brass Buckles

Note: All buckle dimensions given are Inside Dimension (ID) .

SOLID BRASS HARNESS BUCKLES
These beautifully cast and polished buckles are made strong for saddlery and animal harnesses, yet are delicate looking enough for personal use. They are just dandy for belts, breeches, garters, canteen straps, shooting bags and more. A gently curving rectangle with a double bulbed center bar holds the brass tongue securely in place.


#120-75, 3/4" inside width
$1.40 each (shown)
#120-1, 1" inside width
$1.60 each



REPRODUCTION DOUBLE "D"
The design of these handsome closures resembles original British waist belt buckles of the 18th century. Solid cast brass polished to a deep honey smooth finish and comes with a tongue of steel. Attach to your belt and add some flair to your outfit.
.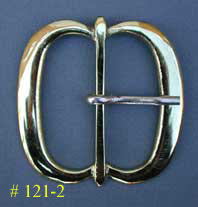 #121-2, 2 inch inside width, Solid Brass $8.50 each
#121-125, 1 1/4" inside width, Solid Brass $6.00 each



SOLID BRASS SCALLOPED BUCKLE
Beautiful 18th and early 19th century style shape.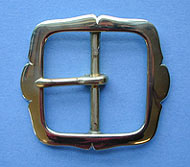 #119-175, 1 3/4" inside width, Solid Brass $8.50 each



SOLID BRASS "S" BUCKLE
We just loved the serpentine look of this small buckle. This buckle would make a great addition to 17th century leatherwork.

#128-75, 3/4" inside width, Serpentine Buckle $3.50 each



SUSPENDER BUCKLE
A quality, well made reproduction of a mid 19th century suspender buckle. Solid brass. This buckle will fit a 1 1/4" wide strap.
#117-125 ,1 1/4" inside width $1.75 each